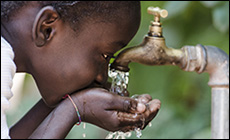 The Central Water and Sewerage Authority (CWSA), has assured consumers that it conducts routine maintenance and inspection of its national pipe network to ensure minimal disruptions during times of disaster.

This assurance came from Water Resource Supervisor at the CWSA, Mr. Danroy Ballantyne, during the 'Views On Issues' Programme aired on NBC Radio on Sunday 31st July.

The discussion focused on the 'State of Readiness of Saint Vincent and the Grenadines for the Atlantic Hurricane Season', which runs until  30th November.

Mr. Ballantyne said that the pipelines are regularly maintained in an effort to ensure that the system could withstand the effects of storms, and the CWSA works in collaboration with the relevant stakeholders to mitigate disasters.


SOURCE: NBC